Pet Care Services I Provide
Petsitting/Dog Walking
Daily Feeding
Administration of Medicine
Pet Transportation
Overnight Sitting
Dog Training
House Sitting
Mail-Newspaper Retrieval / Watering Plants
About Puppers and Kitties By the Sea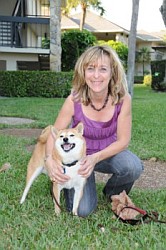 I have been walking dogs and cat sitting as a profession for the past eight years and I have owned a pet for the last 23 years.
I am insured. I love animals and have all the skills and experience you might need in a pet sitter.
As a professional dog walker, my main tasks have always been taking pets for walks, playing fetch, feeding, cleaning up after and hydrating pets after long walks. My walk hours are always consistent regardless of undesirable weather patterns.
I have had Sienna (Shiba Inu) since she was a puppy and I love her like a third child. I also have had cats for 15 years and will watch your pet with the same care and respect.
I am a mature woman with two grown children who do not live at home. My schedule is very flexible so I can be there to meet your pets needs. I have my own transportation and I am available to take your pet to his or her vet or grooming appointments.
Client Testimonials