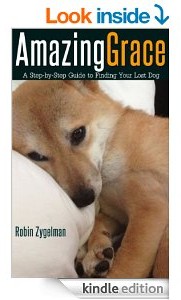 A readable how-to book on the steps one should take to recover a lost dog. She systematically works her way through the recovery experience, starting from the moment of loss and progressing through eventual recovery and the steps to take to prevent runaways in the future. Considerable time is devoted to the practical steps to take during an immediate and any necessary follow-up searches.
Assuming the initial and follow-up searches are unsuccessful, the reader is told how take effective follow-up recovery actions. In this context, the reader is told how many animal shelters to contact and when to contact them, how to make use of the different types of online pet recovery services, when and how to deploy live traps to recover skittish animals, and how to recognize a legitimate pet detective and the services to expect from them. Considerable effort is devoted to making and distributing lost dog posters and fliers, as these humble tools are among the most effective measures in recovering lost dogs.
The book then moves on to the steps to take after the dog has been recovered. Once again the reader is encouraged to adopt a dog's eye view of his/your home and his relationship with you. The intention here to show how one can eliminate any incentive for future runaways. Effective dog tags, micro chipping and electric fences are also described as potentially effective methods of securing a footloose animal.
The book ends with a description of the measures taken by the author and her son to recover Gracie, a beautiful two-year-old Shiba Inu. The measures actually taken to recover Gracie are compared to the recommendations, so that the reader can judge their effectiveness for himself.
Buy Amazing Grace – A Step By Step Guide To Finding Your Lost Dog now.